Summer School on Science in Society related issues in Pandemics - Second edition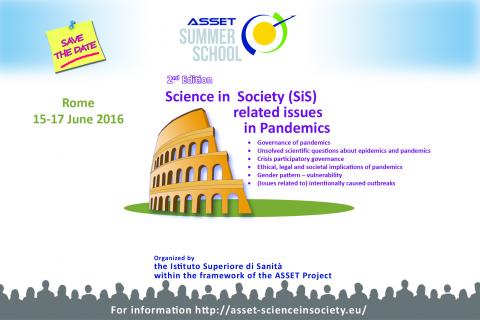 Wednesday, June 15, 2016 (All day)
to
Friday, June 17, 2016 (All day)
The second edition of the ASSET Summer School will be held at the Istituto Superiore di Sanità (ISS) in Rome, Italy from June 15 to 17, 2016.
Pandemics and other major infectious disease outbreaks management requires a multidisciplinary approach and the ASSET Summer School focuses on
Governance of pandemics;
Unsolved scientific questions about epidemics and pandemics;
Crisis participatory governance;
Ethical, legal and societal implications of pandemics;
Gender pattern – vulnerability;
(Issues related to) intentionally caused outbreaks.
See the program here
NEW IN THIS EDITION
In the 2016 Summer School edition, attendants will be given the possibility to present and share their own projects, researches, activities and experiences developed in the field of interest!
WHAT DOES THE SCHOOL AIM TO?
Establish an interactive learning space for professionals involved in Science in Society (SiS) related issues in Pandemics;
Share and exchange issues related to conducting and communicating research in SiS according to a transdisciplinary perspective, ranging from public health to social science and communication;
Address and critically discuss current discourses on research methodologies and findings as well as on practice-based cases.
HOW IS THE COURSE DEVELOPED?
The learning approach used in the ASSET Summer School is typically interactive and participatory in lessons given by top experts or witnesses  in the field; exchange of study- or practice-based experience; mainly case studies.
WHO SHOULD ATTEND?
Professionals with a background education and a working experience in the fields of: medicine, public health, philosophy, social science, communication, health care, health economics, administration (max 20). Fields of education and working experience can be different.
PhD students undertaking courses of study in the above mentioned areas
REGISTRATION  FEE
No registration fee is required
Attendees will receive: School materials, lunches and refreshments during the course
TRAVEL & ACCOMMODATION
Travel and accommodation expenses are on participants account.
Travel grants will be available for 4 students. They will be selected within the evaluation process of CV and motivation letter filled in the registration form.
HOW TO APPLY
The deadline for application is on May 5, 2016. The application form is available here.
Applicants will be informed about the result of their application within 2-3 weeks after the  submission of the form.
IMPORTANT NOTICE: please, do not make any travel arrangements before attendance is confirmed
CONTACT
For further information you can contact:
Eva C. Appelgren
Email eva.appelgren@iss.it
COURSE LEADERS
ISTITUTO SUPERIORE DI SANITA - ISS (ITALY);
ZADIG SRL ZADIG (ITALY);
INSTITUTE OF PREVENTIVE MEDICINE ENVIRONMENTAL AND OCCUPATIONAL HEALTH - PROLEPSIS (GREECE);
ASSOCIATION LYON BIOPOLE LYONBIOPOLE (FRANCE);
EUROPEAN INSTITUTE OF WOMEN'S HEALTH LIMITED - EIWH (IRELAND);
UNIVERSITY OF HAIFA - HU (ISRAEL);
DATA MINING INTERNATIONAL SA - DMI (SWITZERLAND);
FONDEN TEKNOLOGIRÅDET - DBT (DENMARK);
NATIONAL CENTER OF INFECTIOUS AND PARASITIC DISEASES - NCIPD (BULGARIA);
UNIVERSITATEA DE MEDICINA SI FARMACIE'CAROL DAVILA' DIN BUCURESTI - UMFCD (ROMANIA)
INTERNATIONAL PREVENTION RESEARCH INSTITUT - IPRI (FRANCE);
FORSVARETS FORSKNINGINSTITUTT - FFI (NORWAY);
THE INTERNATIONAL EMERGENCY MANAGEMENT SOCIETY AISBL - TIEMS (BELGIUM).
GUEST LECTURERS
International experts (to be announced)
CERTIFICATE OF ATTENDANCE
Participants will receive a certificate for attendance
ORGANIZING INSTITUTION