Summer School on Science in Society related issues in Pandemics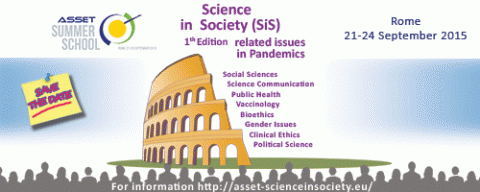 Monday, September 21, 2015 (All day)
to
Thursday, September 24, 2015 (All day)
Within the activities of the EU-funded project ASSET, we have the pleasure to announce the First Edition of the Summer School on Science in Society related issues in Pandemics.
THE FRAMEWORK 
The European Commission is determined to bridge the gap between the scientific community and society at large. In 2001, the «Science and Society» Action Plan was launched with the main objective to foster public engagement and a sustained two-way dialogue between science and civil society and to build a framework for Responsible Research and Innovation (RRI).
The grand societal challenges that we are facing will have a far better chance of being tackled if all societal players are fully engaged in the co-construction of innovative solutions, products and services. Responsible Research and Innovation means that societal actors work together during the whole research and innovation process in order to better align both the process and its outcomes, with the values, needs and expectations of the European society. RRI is an ambitious challenge for the creation of a Research and Innovation policy driven by the needs of society and engaging all societal players via inclusive participatory approaches.
The RRI framework consists of 6 key elements:Engagement; Gender Equity; Science education; Open Access; Ethics; Governance.
CONTENTS
Pandemics as well as other major outbreaks and infectious disease crises impact not only on mortality/morbidity, but also on socio-economic aspects. Such characterization requires a multidisciplinary approach. The First Edition of the ASSET Summer School will cover several issues:
Governance of pandemics
Unsolved scientific questions about epidemics and pandemics
Crisis participatory governance
Ethical, legal and societal implications of pandemics
Gender pattern – vulnerability
(Issues related to) intentionally caused outbreaks
GENERAL OBJECTIVE
The ASSET Summer School aims at
establishing an interactive learning space for researchers and practitioners in the field of Science in Society (SiS) related issues in Pandemics;
sharing and exchanging issues related to conducting and communicating research in SiS according to a transdisciplinary perspective, ranging from public health to social science and communication;
addressing and critically discussing current discourses on research methodologies and findings as well as on practice-based cases.
SPECIFIC OBJECTIVES 
At the end of the Summer School, trainees will be able to:
identify and describe Pandemics and crisis management issues from a SiS perspective,
identify and monitor SiS issues occurring in pandemics and crisis management
apply and adapt an analythical approach to the own country-specific situation.
METHODS
The intended learning approach implemented in the ASSET Summer School will be interactive and participatory. To better address a critical approach on research methodologies, analytical perspectives and dilemmas from practice, it will be possible to join in
lessons given by top experts or witnesses  in the field;
exchange of study- or practice-based experience;
mainly case studies (meaning that small groups are first assigned a real or self- case to be analyzed; then, wrapping-up plenary session follow to discuss methods, processes and outcomes)
The case method represents a teaching approach that uses decision-forcing cases to put participants in the role of people who were faced with difficult decisions at some time in the past. In sharp contrast to many other teaching methods, the case method requires that facilitators refrain from providing their own opinions about the decisions in question; rather, their chief task is asking participants to devise and defend solutions to the problems at the heart of each case.
participants' workgroups - heterogeneous with regard to background - to adopt a constructivist approach also by using, analysing and producing/developing innovative multimedia tools to communicate, circulate or propose new ideas
CANDIDATES TO THE COURSE PARTICIPATION (TYPE AND NUMBER)
The ASSET Summer School would be of interest and suitable for professionals with a background education and a working experience in the following fields: medicine, public health, philosophy, social science, communication, health care, health economics, administration (max 20).
Because of the SiS nature, it could be quite ideal that fields of education and working experience are different. For example, a MD working as scientific journalist or a sociologist working within healthcare administration.
Additionally to these identified professional figures, PhD students undertaking courses of study in these areas are allowed to apply, too.
Nominative course completion certificates will be issued at the end of the course
LANGUAGE
English
WHEN
September 21-24, 2015
WHERE
Centro Nazionale di Epidemiologia Sorveglianza e Promozione della Salute (CNESPS)
Istituto Superiore di Sanità (ISS)
Rome, Italy
COURSE LEADERS
ISTITUTO SUPERIORE DI SANITA - ISS (Italy);
ZADIG SRL ZADIG (Italy);
INSTITUTE OF PREVENTIVE MEDICINE ENVIRONMENTAL AND OCCUPATIONAL HEALTH - PROLEPSIS (Greece);
ASSOCIATION LYON BIOPOLE LYONBIOPOLE (France);
EUROPEAN INSTITUTE OF WOMEN'S HEALTH LIMITED - EIWH (Ireland);
UNIVERSITY OF HAIFA - HU (Israel);
DATA MINING INTERNATIONAL SA - DMI (Switzerland);
FONDEN TEKNOLOGIRÅDET - DBT (Denmark);
NATIONAL CENTER OF INFECTIOUS AND PARASITIC DISEASES - NCIPD (Bulgaria);
UNIVERSITATEA DE MEDICINA SI FARMACIE'CAROL DAVILA' DIN BUCURESTI - UMFCD (Romania)
INTERNATIONAL PREVENTION RESEARCH INSTITUT - IPRI (France);
FORSVARETS FORSKNINGINSTITUTT - FFI (Norway);
THE INTERNATIONAL EMERGENCY MANAGEMENT SOCIETY AISBL - TIEMS (Belgium).
GUEST LECTURERS
Invited prominent international experts (to be announced)
AWARDS
Participants will receive a certificate for attendance
COSTS
No registration fee is required
Attendees will receive: School materials, lunches and refreshments during the course
Travel and accommodation expenses are on participants account.
REGISTRATION
Registration is now open and the deadline for application is August 2015, 15th
To apply, please complete and send the registration form (all fields are required)
SELECTION PROCESS  
Max number of participants: 20
Selection is based on evaluation of CVs and motivation letters
Accepted applicants will be notified about selection by August 2015, 21st
(IMPORTANT NOTICE: please, do not make any travel arrangements before attendance is confirmed)
ORGANIZING INSTITUTION
Centro Nazionale di Epidemiologia Sorveglianza e Promozione della Salute (CNESPS)
Istituto Superiore di Sanità (ISS)
Rome, Italy
FURTHER INFORMATION
Eva C. Appelgren
Phone +39-6-49904013
Fax +39-6-49904110
Email eva.appelgren@iss.it