ASSET High Level Policy Forum in Brussels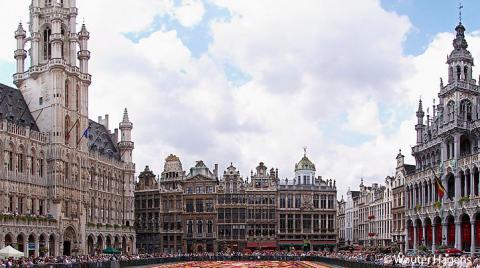 Thursday, March 12, 2015 -

10:15

to

18:00
Avenue du Boulevard 17
17 Avenue du Boulevard
Bruxelles
BE
Tackling pandemics and epidemics is an intricate process, which necessitates effective interaction among many stakeholders. As this interaction must happen very quickly and under intense public scrutiny, preparedness is essential. The network of stakeholders can only be prepared well through building trust and good working relationships prior to the incident. In addition, identifying and discussing important policy issues and examining how they can be improved, can only be done comprehensively through considering the points of view of all the main stakeholders. The ASSET High Level Policy Forum (ASSET-HLPF) is intended to provide this opportunity at the highest level in various European countries. It is a place for stakeholders to meet, learn from each other, and come up with better policy proposals.
The ASSET-HLPF brings together selected European policy-makers at regional, national and EU levels, key decision makers in health agencies, the pharmaceutical industry, and civil society organisations, in a unique and interactive dialogue to promote on-going reflection on EU strategic priorities about pandemics. The meeting will take place on March 12th in Brussels, at the Thon Hotel City Center.
Objectives
Forge a partnership with complementary perspectives, knowledge and experiences to address scientific and societal challenges raised by pandemics and epidemics, and associated crisis management.
Explore and map SiS (Science in Society) related issues in pandemics and epidemics.
Define and test a participatory and inclusive strategy to improve bi-lateral communication aimed to succeed with crisis management.
Identify necessary resources to make sustainable the actions after the project completion.
Focus
The Forum will consider and revise specific issues related to EU strategic priorities in pandemic preparedness, including communication and other responses.
The Forum may produce recommendations – however its primary role will be to create mutual trust, improve communication, and provide a "safe" environment to address questions which are otherwise difficult to discuss.
The forum aims to strengthening the perception that further dialogue among the participants is going to be fruitful due to increased insights into each other's perspectives, and the sense that conversation between the concerned parties has intrinsic value.
The participants will not participate in any official position, but it is hoped that they might influence policy decisions in a variety of ways.
Questions
What and how can we improve (any) systems capacities to make European citizens (and their representatives) timely informed of the next infectious disease crisis?
How can we help them to identify trustable and accredited information sources?
What can we do to ease citizen' access to correct and timely information?
What can we do to create channels to enable citizens to ask questions and receive timely answers from government officials and accredited sources?
How can we develop a European Scientific network to promote and support such processes?
Is it possible to draft a general strategy to pursue, in the coming years, the defined objectives through Horizon 2020?
What is the role of the European institutions in supporting this process?
Basic rules
The forum promotes dialogue, not debate. Participants are not being asked to defend their own views or to find the weakness in others' positions, but rather to explain their own perspectives.
Parties speak for themselves only and not as representatives of groups, institutions, or governments.
Conversation will be carried out under the Chatham House rule: "When a meeting, or part thereof, is held under the Chatham House Rule, participants are free to use the information received, but neither the identity nor the affiliation of the speaker(s), nor that of any other participant, may be revealed".
Agenda for ASSET-HLPF Meeting in Brussels, 10:15 – 18:00, 12th March 2015
10:15 – Welcome Coffee/Tea/Juice/Water with Pastries
10:30 – Welcome by the moderator, K. Harald Drager, TIEMS, Belgium/Norway
10:40 – Introduction to the EU project ASSET, and the Expected Outcome of the ASSET High Level Policy Forum (HLPF); Alberto Perra, ISS, Italy
11:00 – Presentation of all the participants by themselves
11:30 – From Tell Me to ASSET – How to implement Participatory Governance in Preparedness against Epidemics and Pandemics; Manfred Green, University of Haifa, Israel
11:50 – November 2014 Implementation of the EU Directive 1082 – How to Transfer Theoretical Issues into Practical Applications?; Donato Greco, Zadig, Italy
12:10 – Q&A and Discussion
13:00 – Lunch with Salad, Sandwich Buffet and Dessert
14:00 – Mission and Focus of ASSET-HLPF
14:30 – Form of entity for ASSET-HLPF
15:00 – Members of ASSET-HLPF/Suggestions and Contacts
15:30 – Coffee/Tea/Juice/Water with Biscuits
16:00 – Terms of Reference of ASSET-HLPF
16:30 – Meeting plan of ASSET-HLPF/annually and between annual meetings
16:45 – Budget and Financing of ASSET-HLPF
17:15 – Summing Up/Discussion
18:00 – End of Meeting
ASSET-HLPF Secretary, Thomas Robertson, TIEMS USA
Contacts